VMware vExpert - My Story
Fours years ago, I decided to register for the first time in the vExpert program, my goal was to be a part of an extended group of professionals to extend my knowledge and experiences with people who are like minded. I also wanted a way to share my knowledge to a bigger audience. So far, I have been able to do so by being active in the vExperts Users Groups, Slack Channels, posting educational content to social media feeds such as LinkedIn, YouTube, Twitter and on my website (Ghetto Chronicles).
This community of technologist has also allowed me to extend my Architecture Designs and Configurations to a wide body of people who require help in understanding virtualization environment concepts where VMware Products are being used in businesses around the world. One of the greatest benefit of being a VMware vExpert is the ability to have access to VMware Applications and Licenses, which helps me test in my HomeLab; here I learned how to Plan, Install, Configure, Troubleshoot & Document different Concept Designs.
The KEY is Practicing and getting the additional knowledge to be the best you can be while helping others come up as well. The ability to gain certifications in those fields you desire and show off your different vExpert Badges is a complete honor.
I started learning VMware back in 2004 during the earlier stages of VMware (version 2.0). I was blessed to go to several training classes in Canada to enhance my learning abilities; there I met Mike Laverick (RTFM Education) and became a great student of his. Mike has published a lot of books and content that help IT Professionals understand how VMware virtualization works.
I also joined vSphere-land (
http://vsphere-land.com) user groups where technologist around the world shared and published their Content for users who want to learn and improve VMware-centric skills. In these groups are some of the best names in the world, this LaunchPad was the virtual VMUG.
The reason I love VMware products and being a VMware vExpert is to ensure I keep up my knowledge so I can Read, Study, Play & Share it with people around the world as Mike has done. Giving back is important to my growth! I Hope that whoever reads this post will be inspired and will take the leap to become vExpert and wear the Badge of Honor in the areas they choose.
If you are interested in applying, first is to reach out to one of your local Pro's (
https://vexpert.vmware.com/directory/pro) and start a dialogue; I am more than happy to assist you as well. Second, you can apply at the vExpert Site -
https://vexpert.vmware.com/apply and then you can start to enjoy the benefits of this program if you choose to accept.
Finally, for me, being a vExpert is like riding my Harley. You live freely and ride hard Often - You study your craft to allow yourself to earn money and be a blessing to others that you come in contact with! Big SHOUT OUT to
Corey Romero for reviewing my application and giving me the opportunity as VMware vExpert & VMware Community Manager. Corey always keeps us updated through emails, tweets, etc... with what is happening in VMware.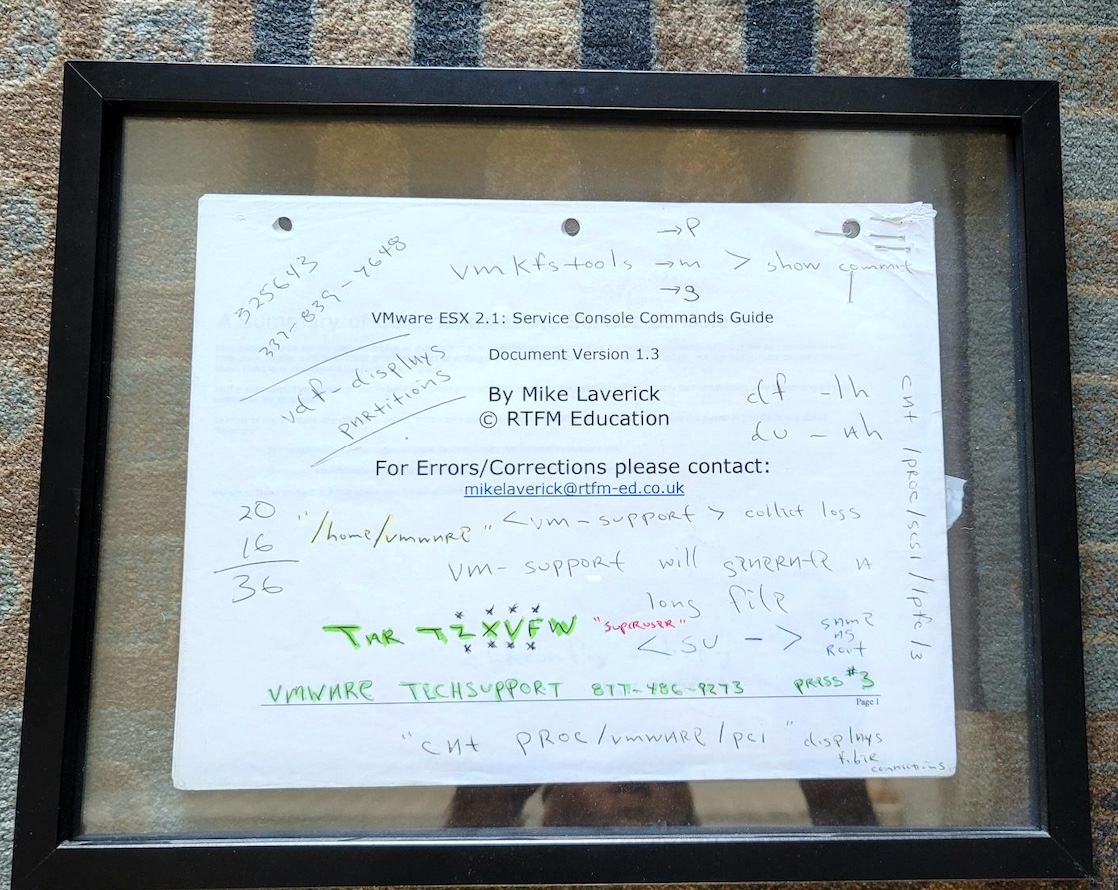 I found this article while going through some old files (I am so glad I kept this) - I am going to frame this as it is VMware history for me! Thanks to all those trailblazers for showing me the way!